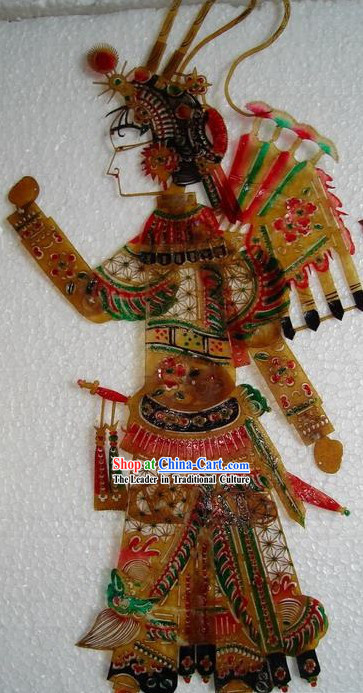 Height:14"

Origin:Shanxi of China

Handmade by the Chinese traditional craftsmen who have been making shadowplay for over 40 years

Chinese Shadow,which can also be called "Chinese Shadow Play or Chinese Shadow Puppet play", is one of the most ancient genre of drama in China. It came into being in the Han Dynasty (206 B.C.-A.D.220) and has more than two thousand years'history.

Chinese shadow artists first carve out the lines of the design and then dye them in bright colors. These transparent leather puppets become very lively and beautiful under the lantern light. With strong local characteristics, the shadow puppets are folk handiworks and a wisdom crystallization of Chinese shadow play artists through the ages. The artistic effect of the play is produced through light, screen, music, singing, and puppet operation. The shadow play is widely stated " a magic, lightning-like art" and win people's high praise in many countrys'visit.

The puppets,known as Piying or "skin silhouettes" are made of animal skins.The shadow puppets of Shaanxi Province are elegant,simple,and classically beautirul,perhaps because the province was the capital of Qin,Han,Sui,and Tang dynasties.And puppet makers in Shanxi paid special attention to the eyes because they are the most telling revealers of character.