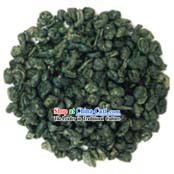 Native Shao-xing
Appearance dark green and in shape of pearl
Brew clear brew with lasting fragrance

Gunpowder Tea is one of top-ten Chinese teas. Because of increasing demand, it is also one of few Chinese teas that have achieved mechanization in farm work and production.

There is no record of when it was originated, but its export documents from the 17th century in name of 'Gongxi Tea', or 'Tribute Spring Tea'. It has been called 'Pearl Tea' or 'Ping-shui Green Tea' in Chinese since the 18th century. Because its shape resembled gunpowder of rifle, the European tea importers renamed it according to its appearance.

Before the 19th century, the producing area of this green tea was limited in Ping-shui, a small town in southeast of Shao-xing County. By 1990s, its production gradually expanded to the whole of Zhejiang Province. To this day, other provinces, like Jiangxi, Jiangsu, Anhui, Fujian, and Sichuan, produce this tea too.

Surrounded by chain of mountains, Shao-xing is a tourist resort for its scenery of rivers and lakes. In early days of Chinese tea exportation, it was a collecting center where teas from neighboring counties were graded, processed, and packed as cargo.