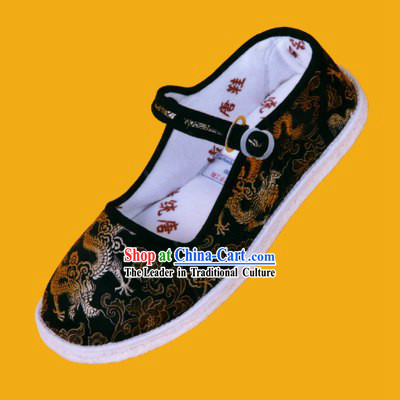 Fabric:cotton

Origin:Shanghai of China

Pattern:dragon

Colour:black

Size:all sizes are avialable, please specify your size on the order form.

Craft:The cloth skill handwork shoes completely use materials natural and the environmental protection such as cotton ,fiber crops and silk cloth etc to be made.The sole according to the shoes yard the big or small difference, 18 to 30 layer of 100% pure cotton cloth use is received the system, and takes the pure natural Pure silk shoot shell of the Dabieshan Mountains to bring into in the sole , being used for strengthening sole inhaling damply and the ventilate merit ability , the flaxen thread of system is twisted in pure handwork of Dabieshan Mountains special local product carefully choosen , the basic skill's skill received uses crosss the skill of handling needles,possesses wear-resistingly and endure the big characteristic of corruption and intensity,ten thousand threads on thousand needles as a result of special worker's order processs refines and becomes.The top grade is first-class to a carefully choosen more first-class real soft silk fabric in satin weave of instep , tapestry satin , velvet and Corduroy shelves outside materials equal in height . Collecting the nations such as Suzhou embroidery etc embroiders and innovates the design in organic whole with modern times , and arranges in groups more remarkablely with tradition clothing and popular fashionable dress , and fully shows nation tradition and the temperament of person from east.The variety of colors and designs is complete, and satisfies your various needs.