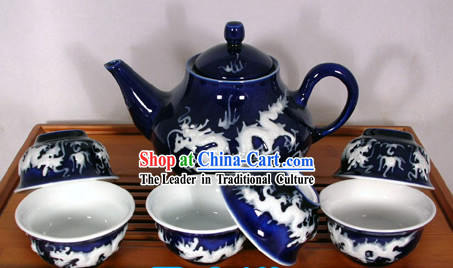 Tea Set:one teapot, six cups

Tea Pot Height:5"

Tea Pot Length:8"

Cup Height:1.8"

Cup Diameter:3"

Cup Volume:50ml

Teapot Volume:500ml

Origin:Jingde Town of Jiangxi

Meaning:riches and honour

Jing De Zhen, was a town famous as "The Chinaware Capital". As long as 2000 years ago, in the Han Dynasty, some ancient kilns for pottery were built here. In the Tang Dynasty, people had been able to produce chinawares by heating. The wares are said to be: as white as a jade, as clear as a mirror, as thin as a sheet of paper and as sweet sounding as a Qing (a Buddhist percussion instrument). Owing to the manufacturing level was much improved during the reign of Song emperor Jing De, the town was named Jing De Zhen. It's said its former name was Chengnan, pronounced "china" by the Western people who used to export the porcelains from here to their countries. That's why the porcelain was called "chinaware".