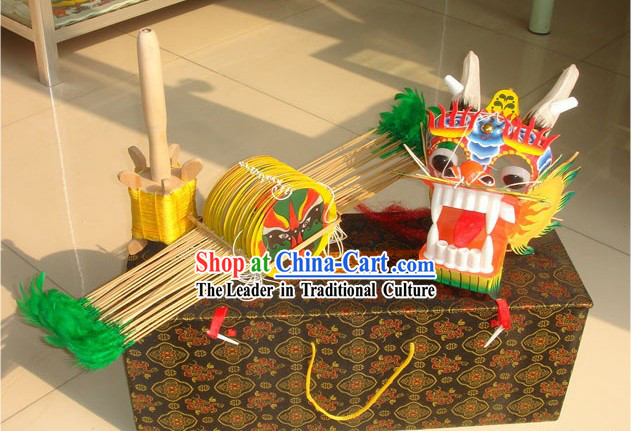 Length: 1200cm (472")

Diameter: 15cm(6")

There are 40 segments included.

Material: silk and Pure silk

Origin: Weifang of China

Handicraft: All hand made and painted by the tradiitonal Chinese craftsmen in Weifang


The dragon heads are all individually hand painted - each one is unique with its own 'character'. They all feature:

1. Deer horns, as deer are ridden by the immortals and represent longevity and good luck.

2. Tigers eyes - the tiger is the king of the beasts, mighty and strong.

3. Catfish whiskers, to represent the material wealth. (Catfish are an essential part of the Spring festival meal).

4. A humans beard, as a symbol of intelligence and talent.(The longer the beard the wiser you are).

5. The segmented body (centipede) represents a centipede.

Weifang, a kite city, is an old handicraft town located in the middle part of Shandong peninsula in east China. It is the birthplace of Chinese kite with a history of kite flying and manufacturing for about 500 years. Weifang kite is famous for its delicately selected materials (split bamboo and silk), careful and neat painting, bright colors, exquisite framing and mounting and smooth gliding. "Hang up on the wall it's a painting, fly up in the sky it's a kite." Hand-made and hand-painted, the primary kinds of Weifang kite are bird and animal kite. The masterpiece is dragon kite, as the dragon is the symbol of the Chinese nation.