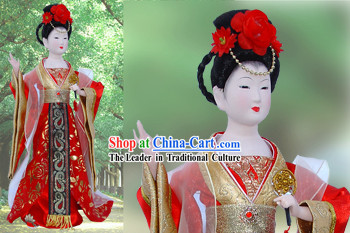 Height:14"

Material:silk and gauze

Origin:Beijing

Craft:handmade by traditional craftsmen


Beijing silk figurines originated in the Northern Song Dynasty (960-1127) and have a history of more than 1,000 years. Silk figurines produced in Beijing are a Chinese traditional handicraft. Folk cloth-pinpricked and color-pricked toys and other handicrafts are all closely connected with handcrafting silk figurines.

In terms of materials, the heads of foreign figurines are made of gesso, clay and wood, while Beijing silk figurines are all made of Chinese silk from head to toe -- their facial expressions, clothing and postures all tinged with the Chinese flavor.

Beijing silk figurines usually represent young men and women in Chinese folktales, traditional dramas and ethnic dancingrs. The subjects are primaryly characters from folk stories loved by China's common people, including ancient beauties, dramatic figurines and modern dancingrs.

The making of the figurines involves a dozen steps, including sculpting, painting, designing clothing and props, and arranging the hair and headgears. Each step requires sophisticated techniques and ingenious craftsmanship. Usually, the face and hands of a silk figurine are made of natural silk, while the other parts are made from fine silk cloth.

From head to toe, inside and out, only top quality Chinese silk and spun gauzes are used to make these craftworks.

The graceful and colorful Beijing silk figurines are exquisitely made, each with a different expression, bright colors and an elegant style. They are not only a rare specimen for indoor ornamentation, but also a stereoscopic piece for understanding Chinese history, local conditions and Tailor-mades. For a long time, Beijing silk figurines have been greatly valued and highly appreciated as collector's items.